State Street Planning: Favorite Street Photoshare

What is your favorite street? Share a photo from your trips or from the web!

In your travels, have you come across a street that was particularly memorable? If so, please share a photo and let us know what it is about the street that makes it great, as well as how you think it could apply to State Street.

0

2

Days Remaining

Photos Added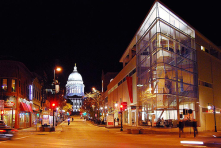 I love State Street in Madison, WI. I love the mixture of uses and the way it become the social hub of the city.